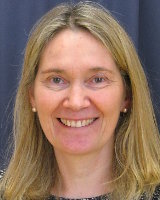 Professor Katrina Sharples
Office:
Science III, room 238
Phone:
479-7782
Email:
katrina.sharples@otago.ac.nz
** Also in the Department of Medicine **
Research Interests
I am a biostatistician, with a PhD in Biostatistics from the University of Washington, Seattle. I have fairly broad interests in statistical methods for clinical and epidemiological research, with particular expertise in clinical trials. I am the lead statistician for Cancer Trials New Zealand, the Pharmacoepidemiology Research Network and the Centre for International Health and am a member of the Otago Global Health Institute and the Centre for Translational Research in Cancer. My main areas of application are cancer, infectious disease and respiratory disease. I chair the Health Research Council Data Monitoring Committee. My time is divided between the Department of Mathematics and Statistics and the Department of Medicine.
Selected recent publications